2020 Annual Report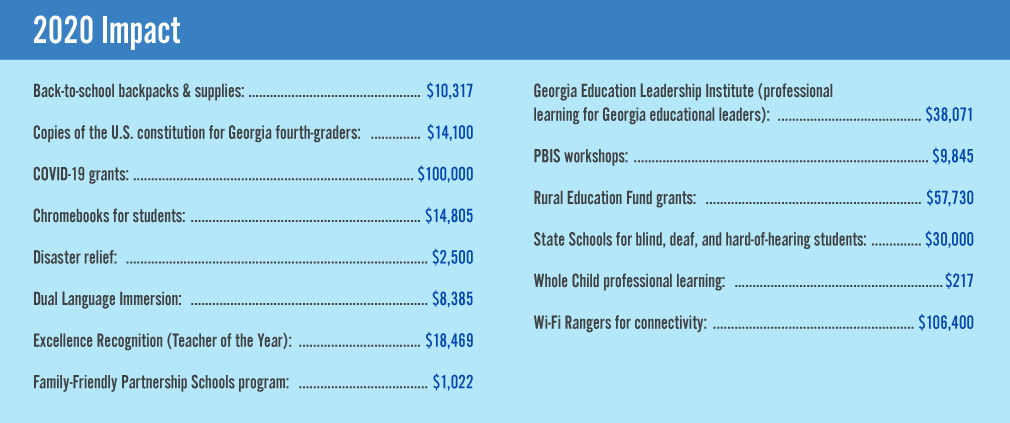 Friends, partners, and supporters of public education,
Thank you for your interest in the Georgia Foundation for Public Education! GFPE is the foundation of the Georgia Department of Education, and exists for the single purpose of supporting educational excellence for students in Georgia. We provide simple ways for donors to serve students in Georgia's K-12 system, by investing in a current GFPE project or working with GFPE to fund their vision.
In recent years, we've provided funding to support rural public schools, dual language immersion, disaster relief, back-to-school supplies, and more – but in March 2020, the need changed, and we needed to pivot.
The COVID-19 pandemic had an immediate impact on public schools, which were faced with creating systems for full virtual/distance learning with very little advance notice.
GFPE exists to support public schools, and that's what we worked to do in the wake of the pandemic. Our streamlined, low-overhead organization allowed us to respond quickly and nimbly to these brand-new needs. We immediately partnered with the Innovation Fund Foundation to offer COVID-19 Response Fund grants, and with AT&T, the Georgia Governor's Office, and the Georgia Department of Education to expand connectivity through WiFi Ranger hotspots.
Using GFPE funds, Georgia public schools offered mental health supports for their students, took virtual field trips, provided virtual summer school lessons, purchased PPE, delivered school meals to students' homes, and more.
It is an honor to support Georgia's public schools, and to fulfill our mission of meeting students where they are – wherever they are. If you'd like to join us in this work, please review the information in this annual report and support our efforts.
With gratitude for your partnership and support,
Walt Helms, GFPE Board Chair
Paige Pushkin, GFPE Executive Director

Funds from License Tags Support Public-School Classrooms
All proceeds from the purchase of Georgia "Educator" and "Support Education" license tags directly support public-school classrooms through GFPE. Funds from the purchase of these tags allows us to support programs like Georgia Teacher of the Year, the Rural Education Fund, Dual Language Immersion, and much more. Support students in Georgia's K-12 public schools today by purchasing a tag for your vehicle! The Simplest Way to Support – Purchase a Georgia Educator Tag!


Pandemic Relief for Schools: COVID-19 Response Fund Grants
In March, Georgia public schools had to do the impossible – with extremely limited notice, schools shifted to full-time distance learning, many for the first time in their history.
Students needed laptops and internet access. They needed to access meals, while suddenly cut off from their school buildings. They needed mental health support, and they needed to continue learning in an entirely new environment.
To help schools fill the gaps, GFPE immediately partnered with the Innovation Fund Foundation (IFF) to stand up a brand-new grant program, the COVID-19 Response Fund. Applications opened in April 2020, and by May, 11 grants were approved, providing funds for personal protective equipment (PPE), school meals, mental health services, supplemental learning resources, and supports for at-risk students.
An additional round of funding was made possible by donations from the R. Howard Dobbs Foundation, NCR Foundation, Rotary Club of Brookhaven, and the Jesse Parker Williams Foundation, funding school and district initiatives designed to mitigate the long-term impacts of the pandemic.


Expanding Connectivity: AT&T WiFi Ranger Hotspot Grants
In the spring, as the pandemic started, an estimated 80,000 student households across the state did not have access to wireline internet services –making connectivity one of the most urgent needs facing the K-12 education system.
To expand connectivity, GFPE partnered with the Governor's Office and the Georgia Department of Education to leverage a donation from AT&T and deploy 448 WiFi rangers to 36 school districts across the state.
The rangers were affixed to school buses to provide community-accessible mobile WiFi connectivity, with priority given to systems located in high-poverty and rural areas of the state.
"I am extremely grateful for the donation by GFPE and AT&T of WiFi Rangers," said Chris Forrer, Superintendent of the Franklin County School System in northeast Georgia. "Whether they were used by students who were temporarily quarantined to keep up their classwork, or by students who chose to attend school virtually full-time, this donation was essential to their learning."


Expanding Opportunities in Every School: Rural Education Fund
Launched in 2018, GFPE's Rural Education Fund gives rural school districts – which face unique challenges and resource gaps – the flexibility to identify their area of greatest need and propose a project that will make an impact on students.
To date, we've awarded 63 grants to rural schools and districts totaling over $354,003.


Ready for a Global Future: Dual-Language Immersion Grants
GFPE regularly works with staff at the Georgia Department of Education to identify and fund key priorities – including Dual Language Immersion, or DLI.
DLI allows students to gain fluency in a foreign language as part of the regular school day. In Georgia DLI programs, students spend at least half of their school day in the target language, and the other half-day in English.
In 2019, GFPE provided a total of $9,555 in DLI Mini-Grants to seven public schools: Dunleith Elementary in Marietta, Brandywine Elementary in Alpharetta, Clarkdale Elementary in Austell, Brookwood School in Dalton, Norton Park Elementary in Smyrna, Haven Elementary in Savannah, and Windsor Forest Elementary in Savannah.
The grants funded key resources to supplement existing DLI programs. For example, as Dunleith Elementary rolled its program up to first grade, they needed to equip an entire classroom with Spanish instructional resources. Similarly, Brandywine Elementary used its grant funds to purchase Spanish-language books to support math, science, and social studies learning.


Donor List
$100,000-$499,999
| | |
| --- | --- |
| Anonymous | |
| AT&T | |
| Georgia Power | |
| Mighty Cause Corporation | |
$50,000-$99,000
| | |
| --- | --- |
| Innovation Fund Foundation | |
| United Way | |
$10,000-$49,999
| | |
| --- | --- |
| Cobb Community Foundation | |
| National Center for Youth Issues | |
| NCR Foundation | |
| Wyck & Sehll Knox Family Foundation Inc. | |
$4,000-$9,000
| | |
| --- | --- |
| Fidelity Charitable | |
| Davis Knox | |
| McMunn Family Foundation | |
$1,000-$3,999
| | |
| --- | --- |
| America's Charities | |
| Pamela Buzbee | |
| Carol Seay | |
$50-$999
| | | |
| --- | --- | --- |
| Juan-Carlos Aguilar | Gladys Fisher | Iesha Parks |
| Amy Alderman | Chet Forsh | Mahesh Pawar |
| Travis Allen | Meghan Frick | Kathy Peavy |
| Lacey Andrews | Cassandra Gaul | Paula Poulicek |
| Sharon Armour | Erica Glenn | Martha Powers-Jones |
| Diana Baird | Adria Griffin | Geraldine Price |
| Ken Banter | Cindy Ham | Susan Psytic |
| Mary Jean Banter | James Hammond | Mary Ream |
| Geronald Bell | Mamie Hanson | Helen Rice |
| Rebecca Blanton | Devonne Harper | Stephen Roache |
| Sharon Bonner | Walter Helms | Michael Royal |
| Jessica Booth | Hodge Consulting Services, LLC | Cindy Saxon |
| Nancy Brim | Paige Holland | Pat Schofill |
| Clara J. Keith Brown | Gail Humble | Amy Sewell |
| Amanda Buice | Timi Hunt | Christopher Shealy |
| Danielle Burnette | Alvenease Jackson | Scott Smith |
| Brian Butera | Janet Johnson | Deshonda Stringer |
| Ashley Byars | Otis Johnson | Karen Suddeth |
| Miriam Caldwell | Stephanie Johnson | Bob Swiggum |
| Randolph Cardoza | Helaina Jolly | Emily Thomas |
| Anthony Childers | John Josephson | Allison Timberlake |
| Tammi Clarke | Michelle King | Travis Townsend |
| Jason Clayton | Cynthia Lee | Sharquinta Tuggle |
| Melodie Clayton | Joseph Lillyblad | David Turner |
| James T. Collins | Jessica Loiacono | Premkumar Venkatasamy |
| Bryan Cox | Liz Loreti | Janzetter Walker |
| Ann W. Cramer | Faya Major | Barbara Wall |
| Leigh Ann Cross | Kenneth Mason | Jo Ward |
| Shari Diamond | Darrel May | Kenneth or Suzette Weinhardt |
| Linette Dodson | Therese McGuire | Shannon Weist |
| Peter Dominicis | Traci Messier | Jennie Welch |
| Jason Downey | Allan Meyer | Breanne West |
| Mari Early | Jeannie Morris | JoAnn Wood |
| Tamara Echard | Frank Mullins | Richard Woods |
| Brenda Edenfield | Upendra Narra | Jodi-Ann Wray |
| Joseph Emma | Lynn O'Hara | Rakesh Yadav |
| Louis Erste | Sabine Oneill | Jennifer Zoumberis |
| Nadine Fincher | Bethani Oppenheimer | |
Up to $49
| | | |
| --- | --- | --- |
| Carly Ambler | Ann L. Hamner | Marijo Pitts-Sheffield |
| Kathy Aspy | Lisa Hardman | Cynthia Popp |
| Ellen Bennett | Corrina Harvey | Eva Porter |
| Janna Bennett | Dawna Hatcher | Patricia Rooks |
| Derwin Binion | Joy Hatcher | Amy Rowell |
| Angela Bivins | Megan Heaphy | Deborah Reagin |
| Jessica Blackley | Sandy-Asari Hogan | Margaret Samuel |
| Tim Brown | Shernita Howard | Stephanie Sanders |
| Nykia Burke | Billy Hughes | Dawn Scott |
| Debbie H. Caputo | Larry Hunter | Brian Shockley |
| Matt Cardoza | Breanne Huston | Linsey Shockley |
| Andrea Catalano | Karma Jordan | Sheila Sims |
| Vickie Cleveland | Deborah Keane – PBIS Team | Donovan Smith |
| Franeka Colley | Trisha King | Sunyoung Song |
| Caitlin Copan-Kelly | Elizabeth Lewis | Diana Spangler |
| Jose Cortez | Wina Low | Jeanne Starr |
| Nicole Croom | Abhishek Madas | John Taylor |
| Viola Darrington | Dawn Mann | Bangarraju Thilam |
| Jayesh Dave | Meghan McFerrin | Eric Thomas |
| Sandra DeMuth | Alicia Mercer | Kimberly Thomas |
| Amarnath Devarasetty | Anne Miller | Venkata Satya Sai Sarma Tipparaju |
| Anisha Donald | Patricha Miller | Keisla Tisdel |
| Caitlin Dooley | Benjamin Moore | Tina Tolen-Harbert |
| Jody Drum | Julie Morrill | Mm Toler |
| Jackie Dugger | Betty Moss | Kelley Toon |
| Mary Eddleman | Agnes Mwangi | Aree Tyson |
| Carmen Freemire | Srinivas Nagaraj | Raghuram Valusani |
| Craig Geers | Harriett Neal | Meghan Welch |
| Amanda Gibson | Demetrius Nelson | Bobbi West |
| Gladys Glover | Diane Ochala | Sheila White |
| Valerie Gordon | Keith Osburn | Ketris Williams |
| Sandra Greene | Pamela Owens | Karen Wyler |
| Hanuman Guntupalli | Dyani Payne | Tylisa Young |
Georgia Foundation for Public Education Board
| | |
| --- | --- |
| Walt Helms, Chair | Cobb County |
| Davis Knox, Vice Chair | Clarke County |
| Ann W. Cramer, Immediate Past Chair | Fulton County |
| Jason Downey, Ex-Officio | Bibb County |
| Al Hodge | Floyd County |
| Otis Johnson | Chatham County |
| Robert "Buzz" Law | Fulton County |
| Kenneth Mason | Fulton County |
| Shaunae Motley | Dougherty County |
| Paula Weeks | Cobb County |
| Jodie Snow | Tift County |
Expenses
| | |
| --- | --- |
| Admin expenses | $44,675 |
| Grants* | $416,121 |
| TOTAL | $460,796 |